IAX (Inter-Asterisk Exchange Protocol) definition
IAX (Inter-Asterisk Exchange Protocol, pronounced "eeks") is a communications protocol for setting up interactive user sessions. IAX is similar to SIP (Session Initiation Protocol ). Mark Spencer developed IAX as a robust, user-friendly alternative to SIP, MGCP (Media Gateway Control Protocol) and RTP (Real-Time Transport Protocol).
How UC Mobility Changes Your Enterprise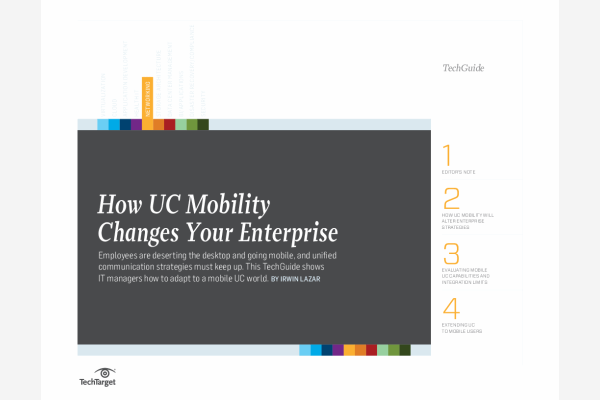 Employees have ditched the desktop and set their sights on mobile alternatives. But what does that mean for your Unified Communications (UC) strategy? Find out in this expert resource.
By submitting your email address, you agree to receive emails regarding relevant topic offers from TechTarget and its partners. You can withdraw your consent at any time. Contact TechTarget at 275 Grove Street, Newton, MA.
You also agree that your personal information may be transferred and processed in the United States, and that you have read and agree to the Terms of Use and the Privacy Policy.

IAX is well suited for control and transmission of streaming media and VoIP (Voice over Internet Protocol). Because IAX works well with all codecs, it is adaptable to almost any type of data transmission. Communications bandwidth and latency are minimized by means of multiplexing and trunking. IAX works well in conjunction with firewalls and allows the transmission of several data channels over one link. IAX uses the same path for both signaling and media.
In IAX, handshaking is not required when a call is initiated, which renders the communication vulnerable to denial-of-service (DoS) attacks. However, the risk can be reduced by the use of firewalls, passwords and other standard security countermeasures.
Continue Reading About IAX (Inter-Asterisk Exchange Protocol)
PRO+
Content
Find more PRO+ content and other member only offers, here.