G.722
G.722 is a standard for high-quality digital voice communications that is expected to lead to increased use in Voice over Internet Protocol (VoIP)... (Continued)
Looking for something else?
G.722 is a standard for high-quality digital voice communications that is expected to lead to increased use in Voice over Internet Protocol (VoIP). G.722 employs subband adaptive differential pulse-code modulation (SB-ADPCM) at 48, 56 or 64 kilobits per second (Kbps) using an input sample rate of 16 kilohertz (kHz).
How UC Mobility Changes Your Enterprise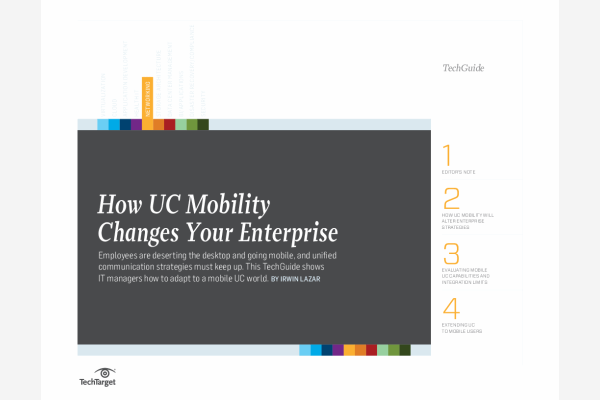 Employees have ditched the desktop and set their sights on mobile alternatives. But what does that mean for your Unified Communications (UC) strategy? Find out in this expert resource.
By submitting your personal information, you agree to receive emails regarding relevant products and special offers from TechTarget and its partners. You also agree that your personal information may be transferred and processed in the United States, and that you have read and agree to the Terms of Use and the Privacy Policy.

G.722 provides an analog sound range of 50 hertz (Hz) to 7 kHz for high-fidelity speech communications. This compares with a nominal audio bandpass of 50 Hz to 3.4 kHz for most other codecs. When network traffic is heavy, bandwidth is automatically conserved by means of a higher-than-usual ratio of digital compression. When network traffic is normal, a low-compression algorithm is used.
In addition to its appeal to VoIP vendors, G.722 may gain widespread acceptance in wireless communications systems, personal communications services, videoconference applications and General Packet Radio Service (GPRS).
Continue Reading About G.722
PRO+
Content
Find more PRO+ content and other member only offers, here.